The Avizia 750 telemedicine cart is an FDA Class I medical device used in clinical settings that rely on timely support from off-site providers to deliver optimal patient care. Best-in-class video quality and far-end pan-tilt-zoom camera control empower specialists to assess patients and make informed care decisions. A long-lasting battery (4 or 8 hour), wireless network connectivity, remote tracking and management maximize the mobility of this telemedicine system.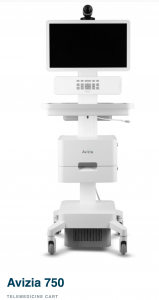 Avizia CA750 Key Features:
Patient safe: FDA Class I registered device (registration pending) and tested to international safety standards.
Mobile: built-in Wi-Fi, hospital grade casters and minimal weight ensure this system is easy to get from place to place.
Easy to use: the intuitive button panel, approachable design and new QuickBoot technology make the system easy to use with minimal or no training.
Turnkey: with built-in storage for peripherals like telemedicine scopes and stethoscopes the CA750 is a turnkey telemedicine solution.
Available in single or dual monitor configurations.
Available with a 4-hour or 8-hour battery solution.
Easily cleanable: the anti-microbial surfaces and lack of a speaker grill make for easier cleaning and sterilization of the system.
An Introduction to the Avizia CA750 Series Telehealth Cart

(Because of only slight differences in the CA300 and CA750, the key differences for the CA750 are outlined in the video at 8:45)
Documentation
User Manual


Note: These resources may be located on an external site and may take longer than usual to load.