The E-Scope stethoscope is an in-band stethoscope that has capabilities to transmit organ sounds within a telehealth call without the need of any additional connections.  It is capable of amplifying sounds up to 30x louder than acoustic scopes.  Its design allows users to listen to organ sounds in a traditional way and transmit to a far end in realtime.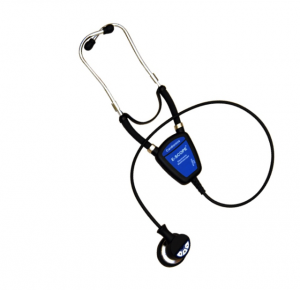 Cardionics E-Scope Key Features
Battery operated- Powered by a single "AAA" battery which will last about 4-6 months with regular use.
The E-Scope has an automatic timer which will power off to conserve the battery.
USB-style side output jack- Used for accessories including headphones for a second listener or connecting cables to a PC for recording purposes in electronic medical records and Telemedicine.
Specialist Adult Diaphragm- Stainless-steel diaphragm produces 50% greater sound sensitivity, a more comfortable feel, and allows listener to use the split-finger technique.
Accessory pack included– A zippered carry case is included which contains a pediatric diaphragm, plastic adult diaphragm, pediatric and infant bells, and your choice of ear tips.
Documentation
An Introduction to the Cardionics E-Scope Stethoscope