In calls that support far-end camera control (FECC), you can adjust the far-end camera to give you a better view. This feature is only available if the remote camera has Point Tilt Zoom (PTZ) functionally.
PC & Mac Users

Step 1
Move the mouse inside the video window
Step 2
Click the FECC button in the upper right corner. It may take a few seconds for the button to become enabled after the conference has started. The below control will now appear inside the video  window when the mouse is moved.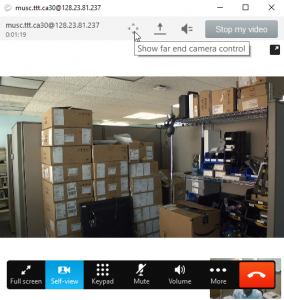 Step 3
Click inside the circle or use the keyboard to control the far-end camera:
The arrow buttons and the arrow keys pan and tilt the camera.
The + and – buttons and keys make the camera zoom in and out.