This message is displayed when an application is installed outside of the Apple App Store.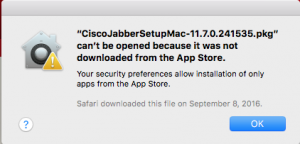 To proceed with the installation, follow the following steps:
Open the Mac "System Preferences"
Open the "Security & Privacy" options by clicking Security & Privacy.
Select the "General" if not already selected.
Select "Open App Anyway"
The installer should begin and you will be able to proceed with installing Jabber as you normally would.
If you still experience the issue, contact helpdesk at (843) 792-9700 or email ttt@musc.edu for further support.